Annual Run For The Roses 5K Run/Walk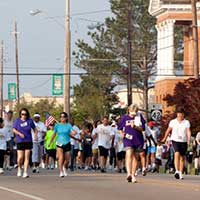 The Run for the Roses, a Mississippi Track Club Grand Prix Event, is held each year on the second Saturday in April. Produced by the Run for the Roses 5k Committee with extensive community support, the race is one of Mississippi's premier road races attracting nearly one thousand participants each year. The Walking Division provides awards for individual and team walkers. Additional events are the One Mile Run/Walk, a favorite of local and visiting youngsters as well as adults, and the 1/4 Mile Preschool Run.
General Information:
Start and finish lines are located near Union Planters Bank. The course is relatively flat and fast with net elevation loss. Splits are called at miles 1 and 2. Two water stations and spray are on course. Fruit and refreshments at finish. Records for 5K Run: Male – Brian Pope – 15:03; Female – Tiffany Ann Dudly – 18:15 (set April 2016)
.
Recreation
Lake Jeff Davis
Lake Officer: Richard Hathorn
(601) 792-8225
Located 3 miles south of Prentiss off Hwy. 42, the 164-acre Lake Jeff Davis opened in 1963. It is one of 21 state fishing lakes operated by the Mississippi Department of Wildlife, Fisheries and Parks. Known for its great bluegill fishing, the lake also contains a good population of largemouth bass.
Two handicapped access fishing piers make fishing from the bank popular. The boat ramp can accommodate boats of all sizes.
Sportfishing licenses are required to fish with the exception of July 4. Fishing permits are also required.
Facilities offered at Lake Jeff Davis are boat ramp, boat rental, 13 camping pads with water and electrical hookup, pavilion and a picnic area with grills. Skiing is allowed on Tuesday and Sunday afternoons.
Lake Records:
Bass, 11 lbs. 0 oz., 1998, Steve Byrd
Crappie, 3 lbs. 8 oz., 1982, Mims Griffith
Redear, 2 lbs. 2 oz., 1985, Larry Terrell
Bluegill, 2 lbs. 0 oz., 1970, Ralph Martin
Catfish, 27, lbs. 0 oz., 1989, Ken Griffith
Prentiss Country Club
Pro Shop: (601)792-5062
Located just east of Prentiss on Hwy. 84, Prentiss Country Club is a nine hole course offering 18 holes of play. Built in 1964, the club's signature hole is # 5, a 430-yard par 4, which requires a long tee shot and a precise approach to a narrow green. A lateral hazard down the left side of the fairway adds to the hole's difficulty. Although fairly open, this course can present many challenges with rolling terrain, green side bunkers and plenty of trees which can affect errant shots. Observant golfers can often spot deer, turkey and other wildlife, particularly in the morning and late afternoon.
Par – 71
Yardage – 6,016 yds
Slope Rating – 117
Men's Course Rating – 68.1
Ladies' Course Rating – 69
Greens – Bermuda